About Hays
Our Team at Hays Associates
Hays Associates, 721 W. Manhattan Ave., Santa Fe, New Mexico 87501
phone: 505-982-5467 – fax: 505-982-7944 – e-mail: hays@haysinc.com
Jim Hays
---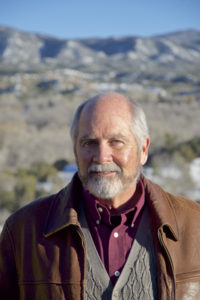 Jim Hays established, owns and is president of Hays Associates, Inc., a company engaged in planning, design and construction of homes, landscapes and neighborhoods. Jim's talent and vision have guided the company for over 30 years. His attention to detail and care are apparent in the projects undertaken by Hays Associates, Inc., which include over 125 homes valued from $200,000 to over $2,000,000.
Jim also has a lifelong interest and substantial experience in land restoration, storm water management and erosion control. Ecologically friendly developments include Pueblo San Marcos with 18 adobe and frame town homes and Kachina Hills with 25 lots and homes for the more affluent homeowner.
Jim graduated from Rice University with a degree in History (1973) and has since taken courses in both Solar Energy and Natural Stream Design. He has served on the City of Santa Fe Planning Commission, the Board of Directors of Habitat for Humanity, the City Long Range Planning Committee and the Arroyos and Watershed Committee. Jim also enjoys golf, skiing, scuba diving, and back packing in the Rocky Mountains. He and Laura Hays have lived in Santa Fe since 1973, many of those years with son Gabriel, now a professional musician and composer in Los Angeles, where he lives with his wife Holly from Santa Fe, and their two young daughters.
Laura Hays
---
Laura Hays is co-owner and Vice President of Hays Associates, Inc. She has been involved in the company since its formation, in the early years providing on-site craftsmanship such as fine quality flagstone patios and landscaping. She continues to provide accounting services to the company and its subsidiaries, and helps to establish company goals and evaluate business opportunities. Laura is a strong advocate of adobe building, and eco-friendly development.
Laura graduated from Rice University with a BA degree in mathematics and psychology. After graduation, Laura and Jim moved to Santa Fe where they began their careers, purchased and remodeled their first adobe home, and raised their son, Gabriel. Laura worked in a range of jobs including as a Realtor and a computer consultant. Over the years, she developed expertise in several computerized accounting systems. Today she is the owner of Systems Services, an accounting consulting firm with a variety of clients including property owners, builders, and an RV park.
In 2016, Laura published her first novel, Incarnation, the story of a young scientist who grapples with past life memories. Incarnation has been well-reviewed on Amazon and is available for purchase in local bookstores and on-line as e-book and print book. (Insert Link to Incarnation on Amazon). Laura continues to promote Incarnation with talks and readings, radio and television appearances, and blogs on her website, lauradavishays.com. She has completed a number of other works including Chosen, Book I of The Atlantis Material, for which she is currently seeking publication.
Laura and Jim enjoy an active business relationship, as well as family life, travel, music, and sports. They live in a beautiful adobe home overlooking the city of Santa Fe.
Local Artisans
---
Over the years we employee specialty workers, finish carpenters, and sometimes supervisory personnel from our extensive contacts amongst the highly talented pool of local workers.
Subcontractors
---
We have worked with most of our contractors for ten years or more. Adobe work, framing, plastering and tiling are often contracted with companies established by several former employees. Our years of experience working together have helped us all to learn each other's ways of doing things.
Design
---
We work with several of Santa Fe's premier architects, and occasionally design and prepare plans in our own office. Good projects begin with good design.
While a project is in the design phase, we are also active in estimating costs and considering the financial impact of design decisions and various finish specifications.