How We Work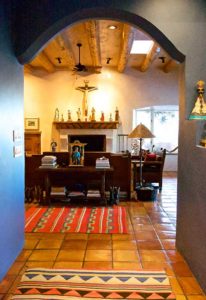 Experience
With over 100 homes completed in the Santa Fe area, our program is proven with many satisfied clients. We also have developed several subdivisions, and are accustomed to overseeing all related processes including land acquisition, subdivision approvals, planning and design, and construction.
We specialize in custom Design and Construction to suit the needs and wishes of our clients, and to maximize the advantages of each home site. We typically work with a local architect in designing and planning a home, though occasionally we do most of the design work in house.
Design
Every Hays Associates, Inc. home begins with a good design. It is important to fully understand views, access, terrain issues, and our clients' needs, including the budget, in preparing concept studies. Many of our clients have ideas already about what they want in their home, and we find this helpful in understanding priorities and lifestyle patterns. However, the building sites around Santa Fe usually call for a unique design which optimizes the opportunities inherent in the characteristics of the land.
Important steps in refining a design may include looking at homes we have previously built, taking advantage of the views from a particular home site, and determining which design ideas are important to the client. With a well-conceived floor plan and site plan, we have a standard program to complete the drawings and specifications necessary for permits, appraisals, architectural approvals and construction of the home. And, while we usually customize choices of fixtures and finishes with our clients, our standard detailing of the structural systems, doors, windows, and other building components provides a high value of built product for the cost.
Construction
We are experienced with adobe, wood frame, pumice crete, concrete, insulated concrete forms, stone and other structural systems. Each system has appropriate applications in the Santa Fe region. Similarly there is a broad palette of finishes available, and we pride ourselves in the quality of our finish work, and our ability to work with a broad range of tastes and sensibilities in our clientele.
The actual price of a home can vary substantially depending on site conditions, structural systems, and the finishes and amenities chosen. We like to understand all of these items, as well as garden walls and landscaping before starting construction, if possible.
Adobe Construction has long been a part of New Mexico's history. Consisting of a mixture of mud, sand, and clay, adobe was used as a building material as early as A.D. 100 when the Native American peoples permanently settled in New Mexico. Adobe construction has also been used in the Mediterranean regions and North Africa for thousands of years. Bringing these Old World techniques to the New World, the Spanish colonists formed adobe into sun-dried mud bricks, the same form of adobe used for building today. Adobe bricks, which each weigh about 30 pounds, are shaped in a simple mold; once the mold is removed, the bricks are left in the sun to dry.
Adobe homes have a natural beauty in harmony with the surrounding landscape of New Mexico. They also possess many practical qualities. Massive adobe walls provide significant passive control of indoor temperatures — cool in the summer and warm in the winter. The same thick walls also make the inside of an adobe home quiet, as they absorb sounds from both inside, and outside of the home.
The combination of adobe with natural plasters, wood ceilings, custom doors and cabinets, tiles, nichos, bancos, portals and other Santa Fe touches, results in a rich blend of tradition, comfort and elegance.